Shqipëria, as Albans call their country, means 'Land of Eagles' in English. The place cannot be considered among the safest tourist destinations. Almost two-thirds of the road network is unpaved. Promises lots of fun for an adventurer/vagabond and I consider myself one.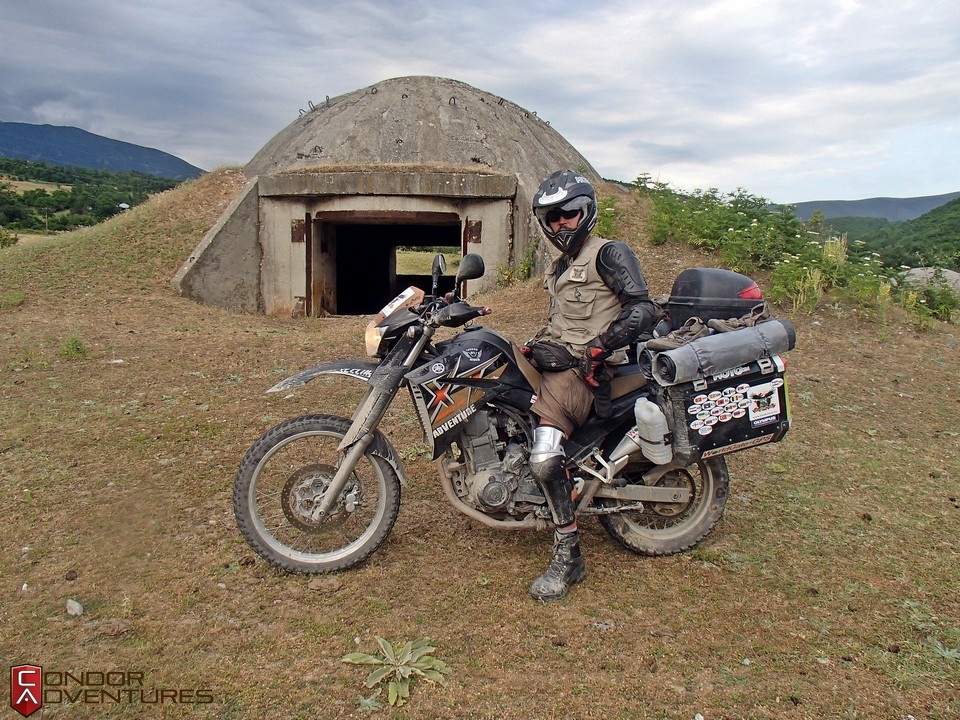 I started from Hungary, via Bosnia, across the valley of Bistrica, which is beautiful even during the night. As the departure has been delayed, it was already dark when I arrived to the end of my first stop, Foca, a border town between Bosnia and Montenegro.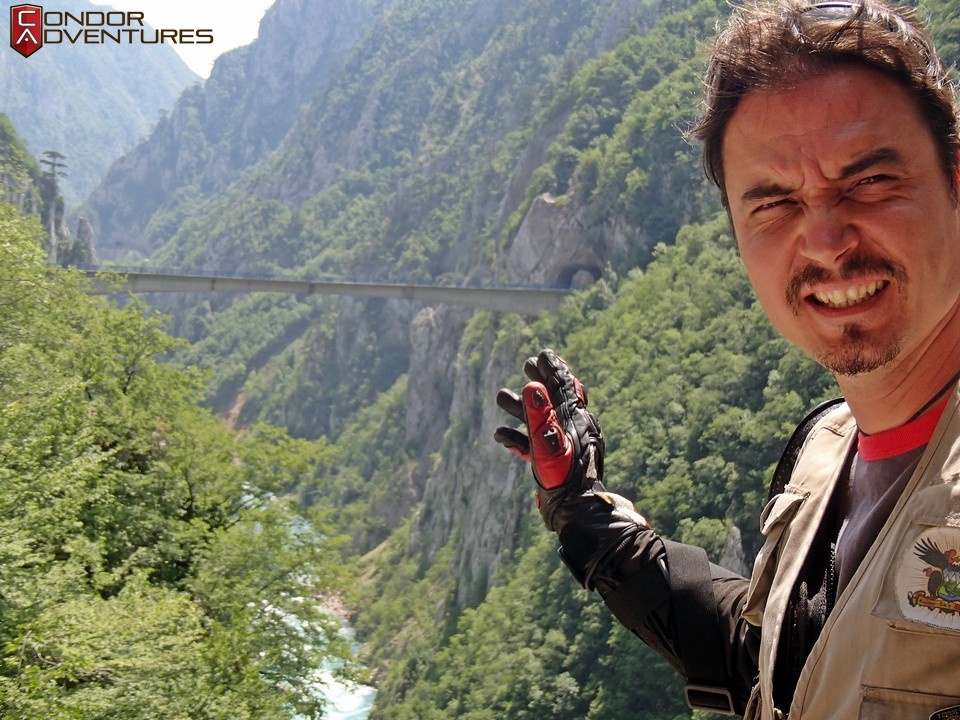 My first accommodation was a camping site right next to the River Drina, I did find it quickly enough with a pinch of luck. Directly right next to the cold and crystal clear river, bungalows and tent spots are awaiting the tired travelers, however the price difference was so temptingly small that I rather chose to sleep in a comfortable bed first night.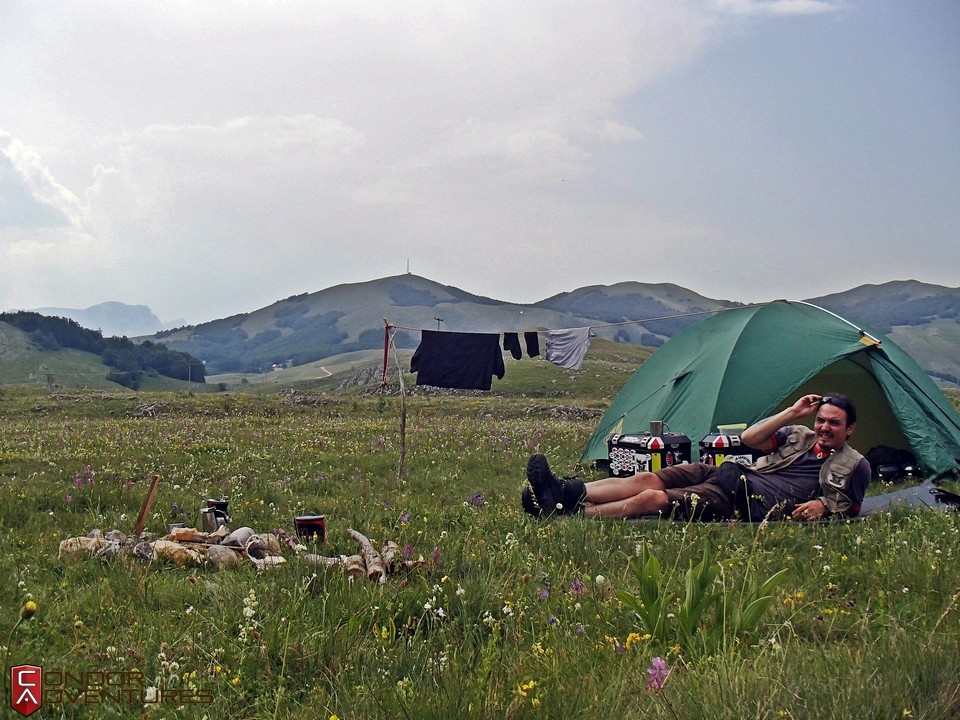 Headed to the legendary mountains of Durmitor the following day, across the sumptous valleys of Crna Gora and the almost cave-like tunnels of Pazar, towards Zabljak, I camped in Trsa. Cooked over a campfire, then acquainted with some Czechs and Slovaks on the village-side dwelling.
I met two Czech bikers there who drove their machines in a van, a 1150GS and a Transalp. They intended to depart from there and do an offroad tour for the following 10 days. After a slight hesitation, I decided to join them. So we left together across the Durmitor, through the Tara canyon all the way towards the Albanian border. From there, about 2kms south from the border, the tarmac suddenly vanished. I highly recommend this offroad surprise.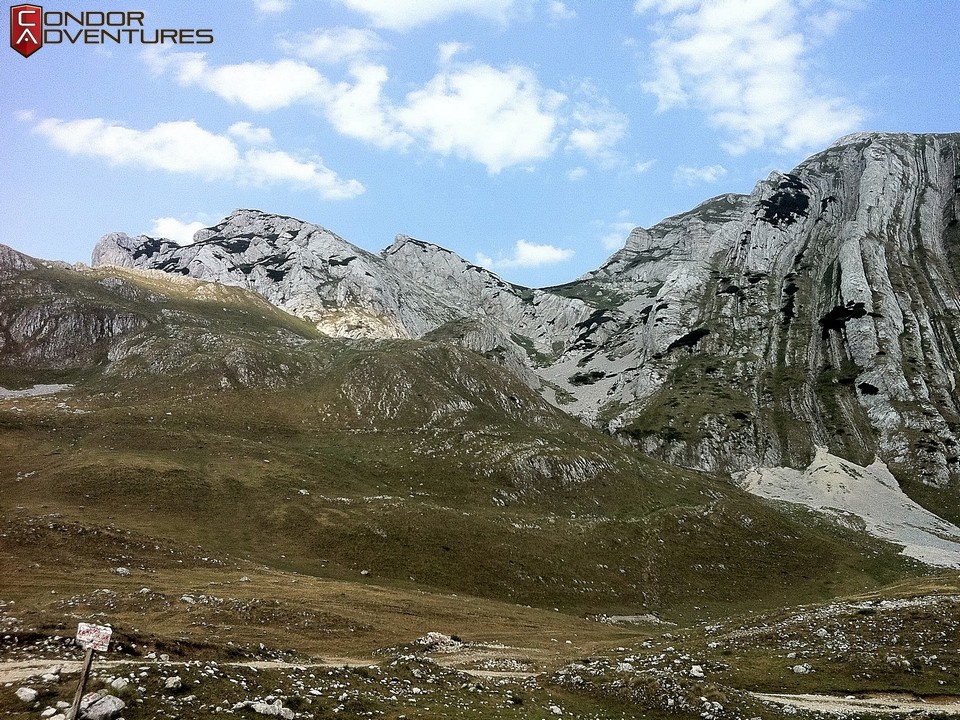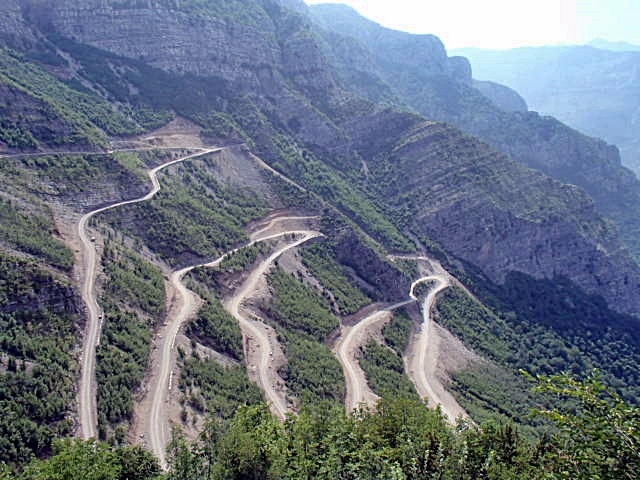 My next promising point of interest ahead was Koman, already in Albania. Although the last 20kms of the road there is paved, it is in a very bad condition, so if you don't have good suspensions, it might be very costly getting up there. I still thought it would be worth the challenge, as there you can take a ferry across a highly swollen mountain reservoir to Fierze, takes only about three hours among high cliffed walls and breathtaking peaks... if the ferry actually works. Unfortunately, this time it didn't. I started a chat with the French couple, Monica and Pierre, they spent their last two days in their campervan, hoping that the ferry would be fixed soon. Therefore, I started haggling with one of the local bar owners, Mario, to use his father's barge to slobber down to our desired harbor. He was up for the cause, of course not for free, asked 70 Euros for the crossing. Therefore we convinced the French to accompany us, so they could do some excursions, meanwhile we could share the expenses. However, getting the bike out wasn't easy, the plank slipped, luckily it didn't get into the water, although my numberplate suffered somewhat from the interaction, I had to improvise and fixi it in 40 degree Celsius, lying in the dust, but was successful.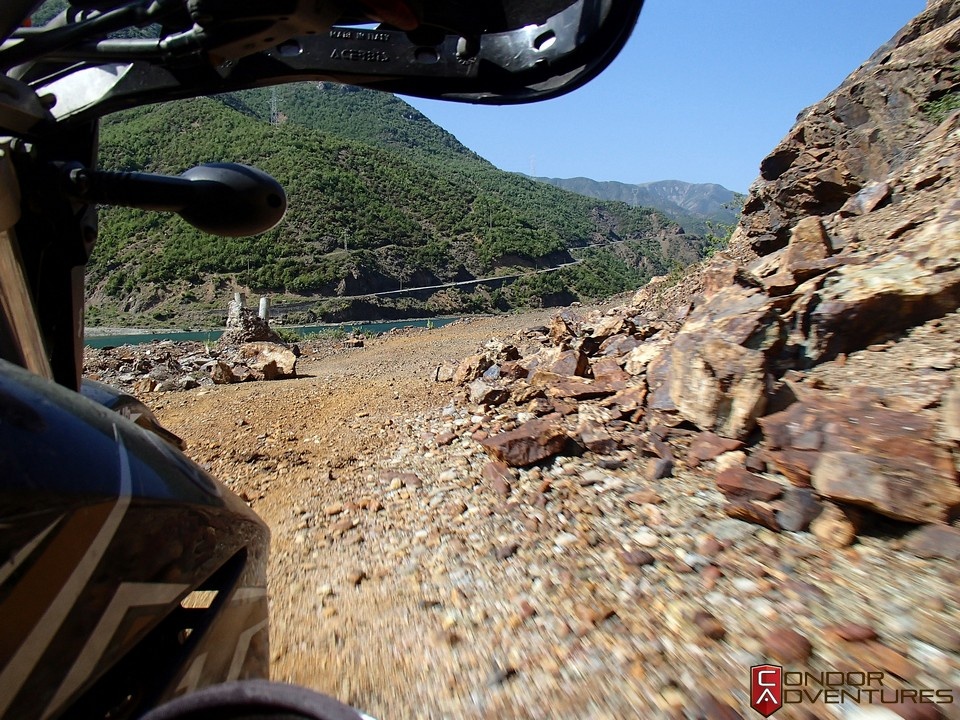 I did have a small detour afterwards to Macedonia, visiting the Mavrovo National Park. Arrived in the dark, searching for a campsite, as it turned out there are none. So I had set up my tent on the lakeside.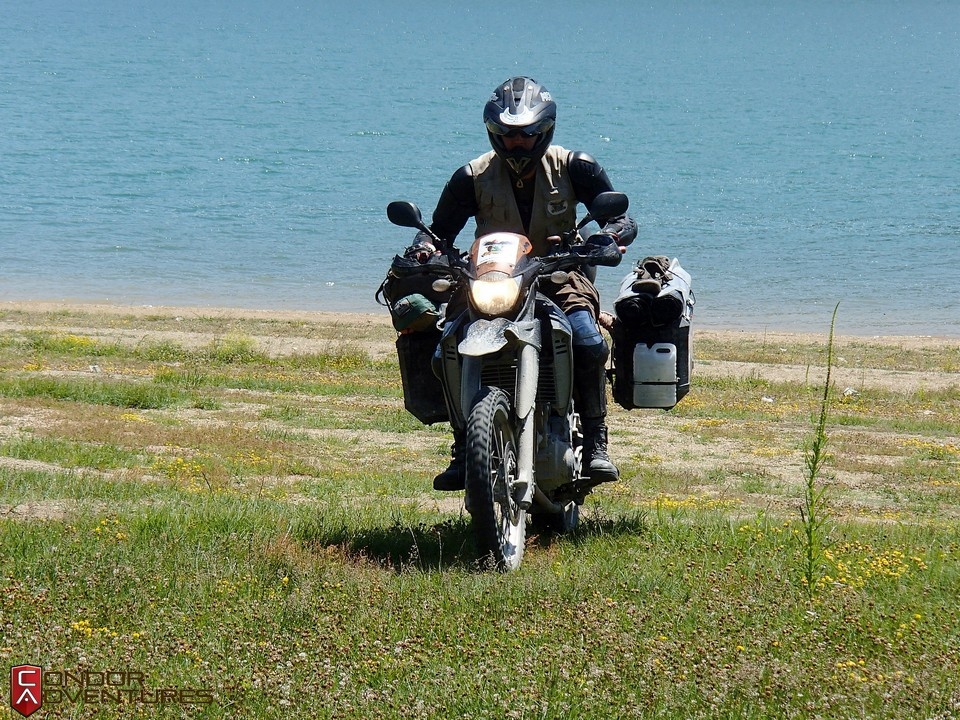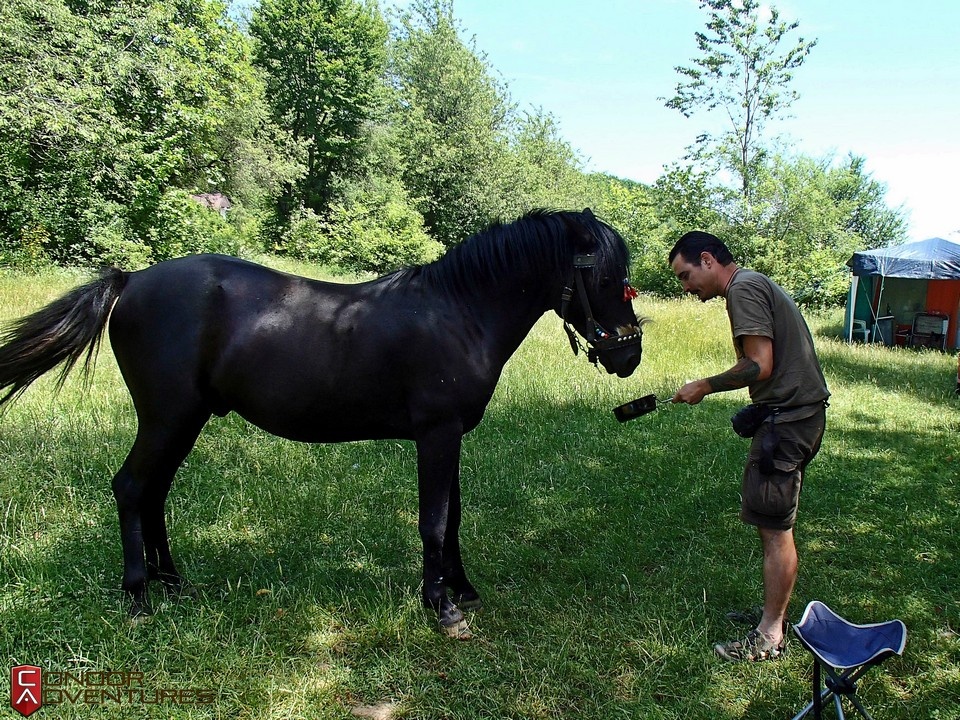 The next day I wanted to head back to Albania, started missing the adventure part. My next station was beside lake Ohrid, near the border, in Pogradec. The lake is surrounded by apartments and camps, also spotted with entertainment facilities. The lake itself is small, however very deep - it's deepest point is 288m.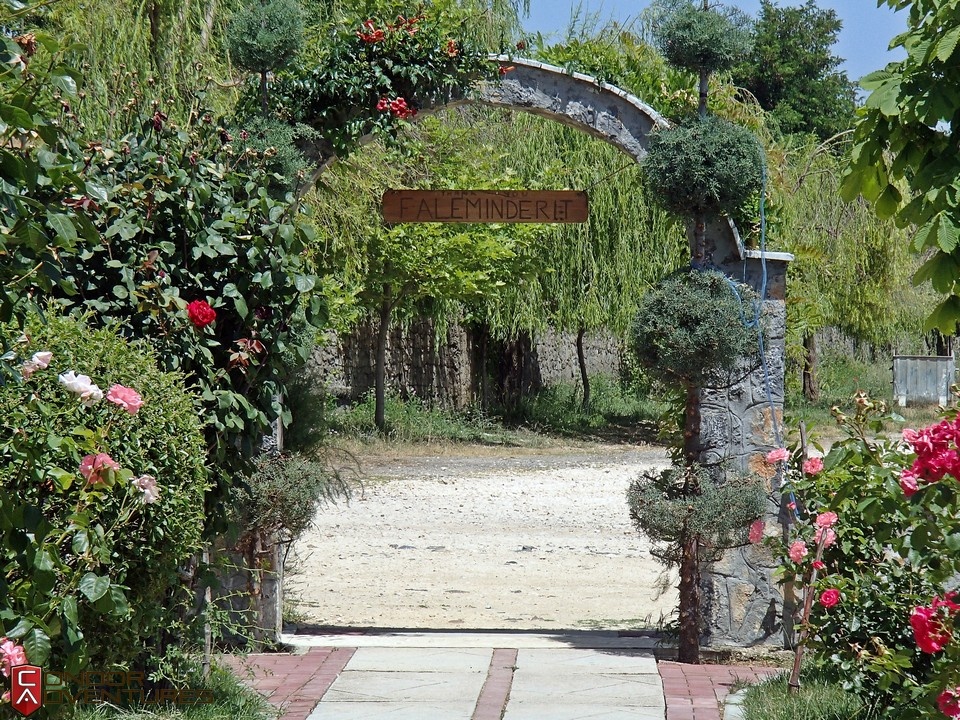 From there, crossing the country, I strolled further towards the seaside. The coastline going south from Vlore is a don't miss. Riding above the cloudline is a fantastic experience. The scenery is already amazing without the clouds though, and the road is good quality all along the coast. Halfway to Sarande, I discovered a small peninsula called Porto Palermo last time I had been there about two years before. Back then, I promised myself that I would stop there for a night, so I seeked for a less likely cowpatted spot near the bay.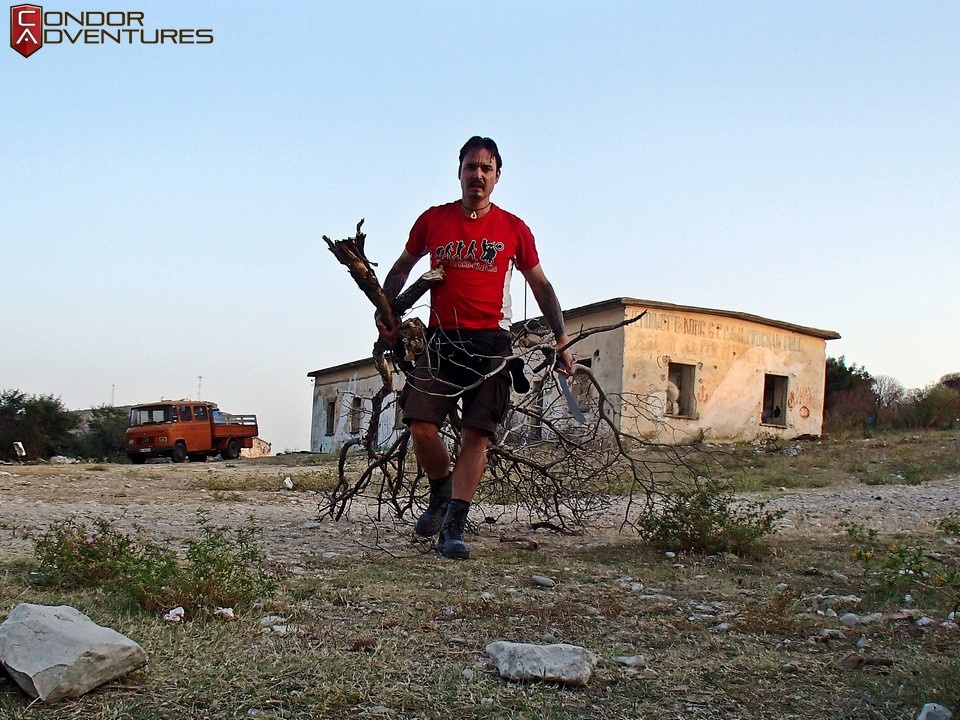 Sarande wasn't far, I found a camping/motel beyond, in Ksamil. Butril's ruined city is only 5kms from there. Even though it's not allowed to take pictures in the museum, it's still not impossible. As I noticed the banning sign on the way out, I took a picture of that as well. At least then I understood why I got strange looks from some tourists. I guess they believed I was actually allowed to do so.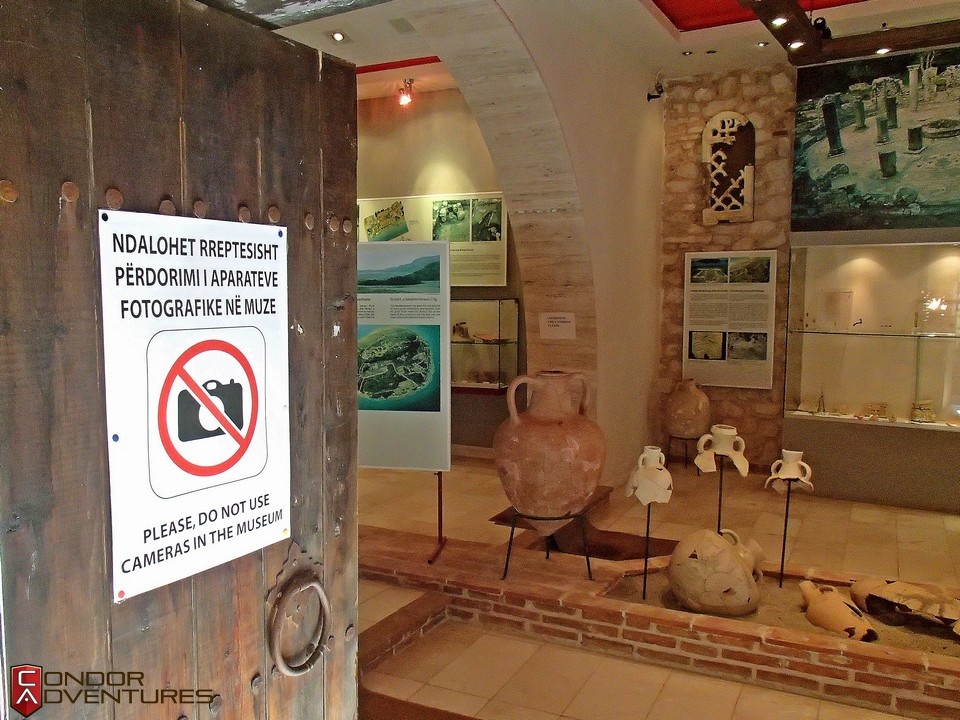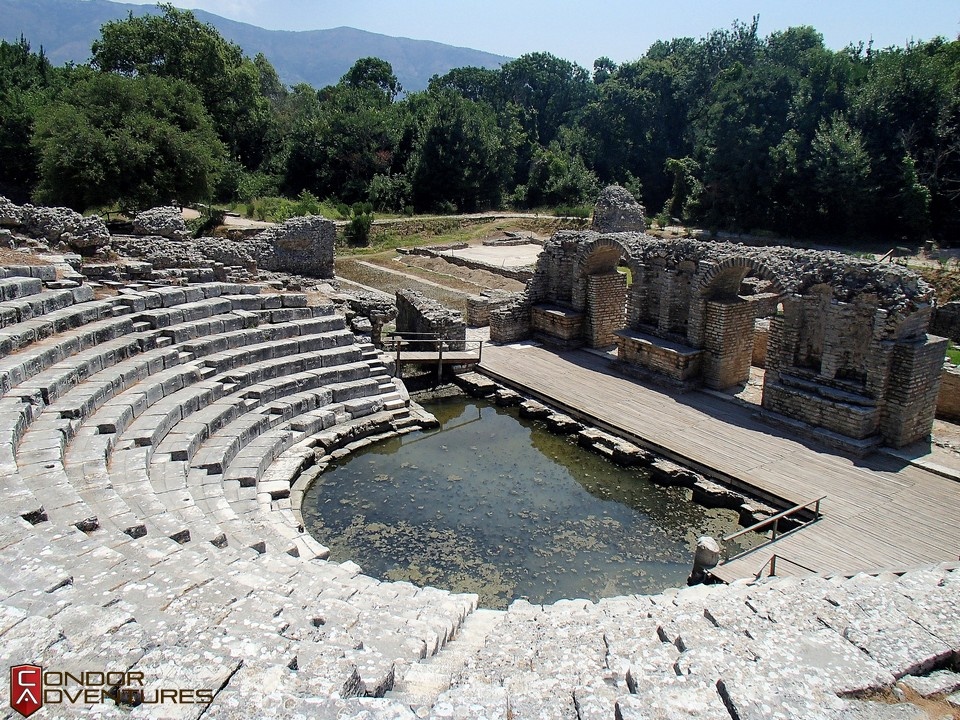 I sensed I'd get the top of the cake now, as I rode across most of the country, I started discovering the inside mountains to the north, based on the tips I got on the way. I stopped at Gjirokaster, also worth a visit, a small keep on the summit with a nice little clocktower. What makes it special, is that it is full of WWI Guns, cannons and mortars, has a separate weapon museum for an entrance fee, and there is also a crashed WWIIAmerican bomber parking in the courtyard.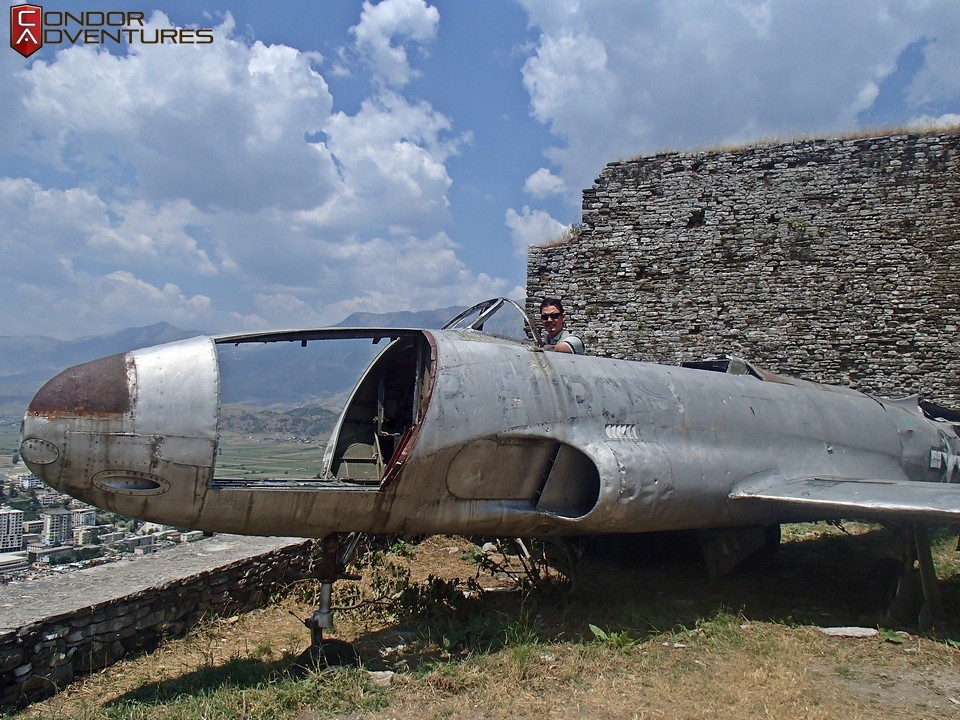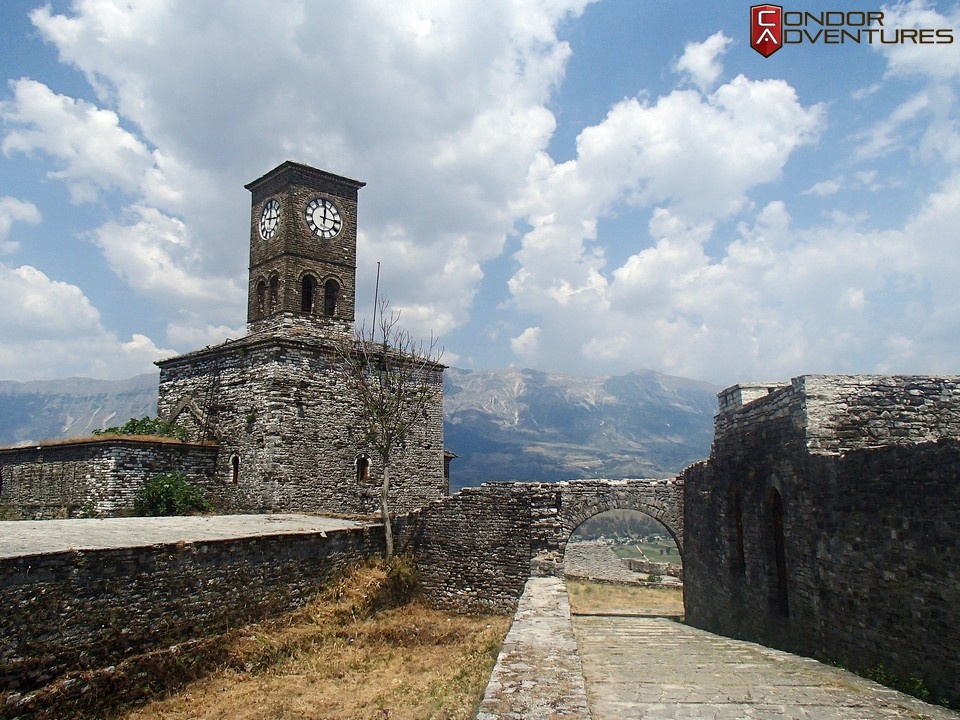 Thereafter I searched for a small mountain thermalbath, asking directions from a group of German jeeps on the go. They said ja-ja, straight on the tarmac then turn left after 20kms. So I watched my mileage and turned left in about 20 kms as I've been told.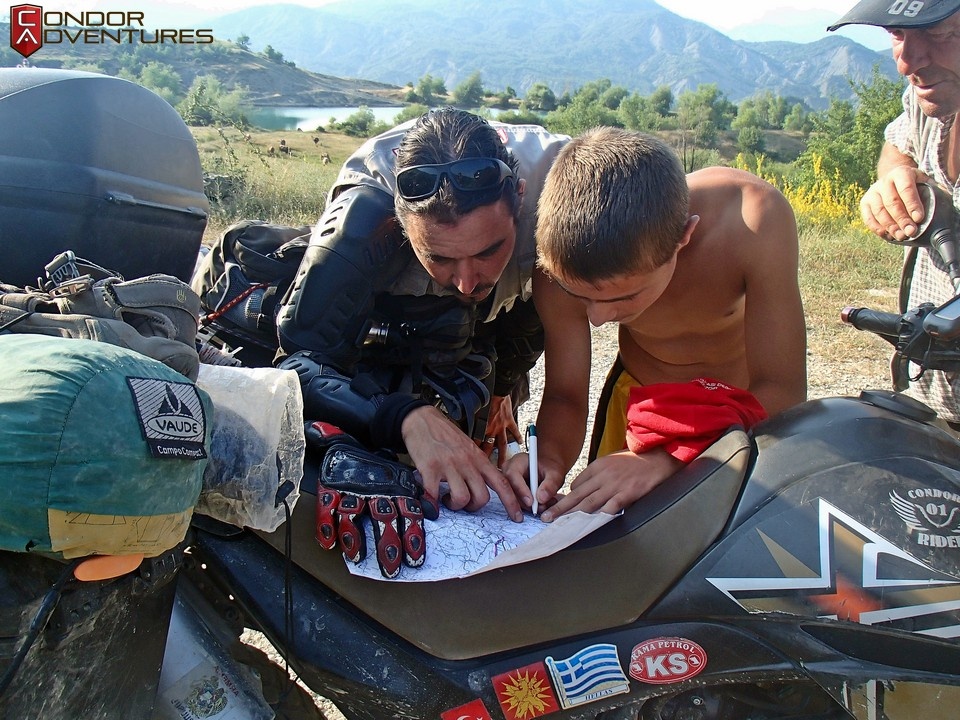 I noticed the following stage was fairly challenging, should say much harder than the northern Albanian stage... on such roads even the cows are trapping side by side, leaning to each other. As an encore, I had no clue about my location. Time I had, hoped the petrol holds on, I wasn't to be let down by a bit of wild camping, played my odds finding water, and it's possible to ride a bike even when hungry. Otherwise I could have switched to survivor-mode, drinking the blood of grabbed bats' for a few days. I was born to be a child of nature, reading many Tarzan books in my childhood, which habit I exchanged to systematically putting Bear Grylls books under my pillow. On the go my instincts were trying to break to the surface in the form of some hopeless thoughts, albeit I opressed these with loud singing, like a good pioneer. Meanwhile, the road has shifted from gravel to rocky-bouldery, then soily-rocky patterns.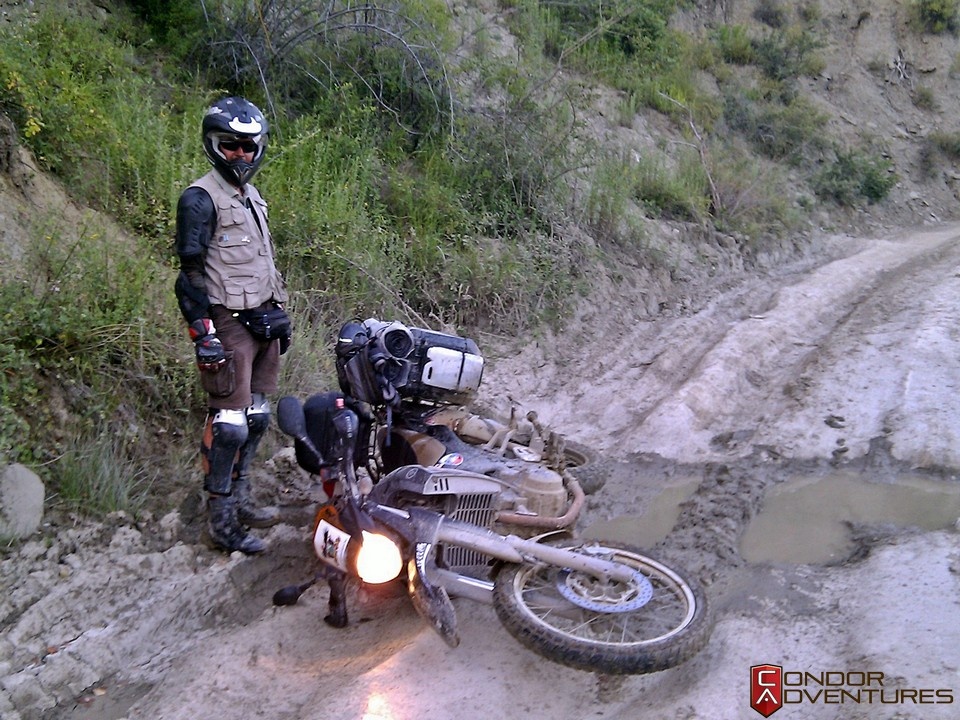 Soon I desperately longed for those treacherous, sneaky rocks and pebbles bouncing out from under the wheel, as due to the upcoming, deeply rain soaked, rut-slashed track, I could barely move anywhere. At one point my side box nearly assassinated me because of a closeby hill-side. It could have been very unpleasant to fall for minutes into any of those gaps. I went tortuously, and, topping up the feeling, dusk was about to onset as well. I got bailed into some nearby village, surrounded by a crowd of children, when I wanted to ask for directions. The smallest one was sent for water, they inquired who I was, offered fruits, asked what I was about to do in the middle of nowhere, where even the chickens stay only because they can't fly away.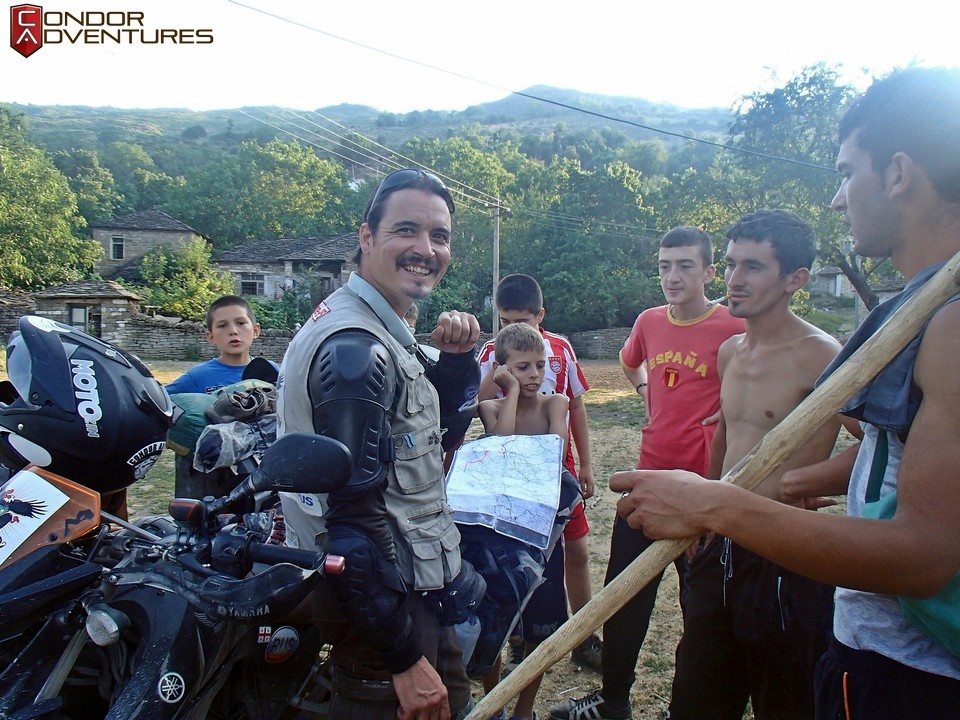 They were very kind, ran after me for a while when I moved on, waving goodbye. I was tired, fuel was about to run out, such road conditions made my motorcycle drink much more. It was already dark when I bumped to road workers who were just on the way to their accommodation in Petran. They led me out from the mountains, the motel was not far away. To my relief there was also a gas station. however, the bath has gone missing.
Equipped with new information I started fresh the following morning and I found the bath. The bath is called banja in Albanian, it was an unforgettable experience sitting in those stone-pools made by locals, where the thermal water breaking up gathered from the mountainside, in the middle of that impressing landscape. I've heard some rumors, it is a very useful method to chase your boredom if you take off your clothes and guard it J. I did something similar the whole day.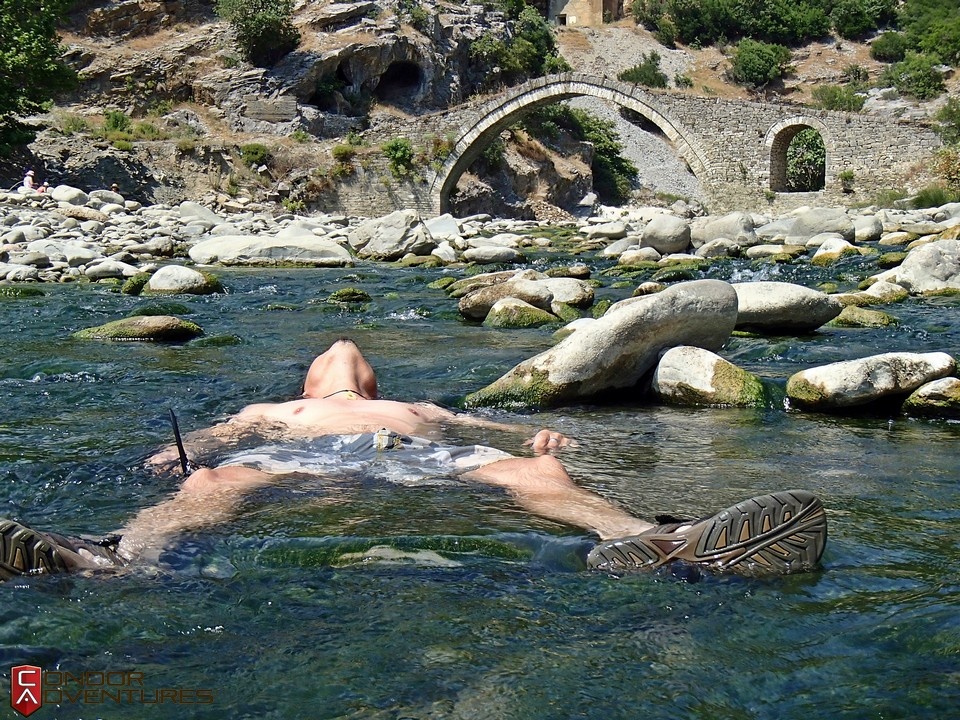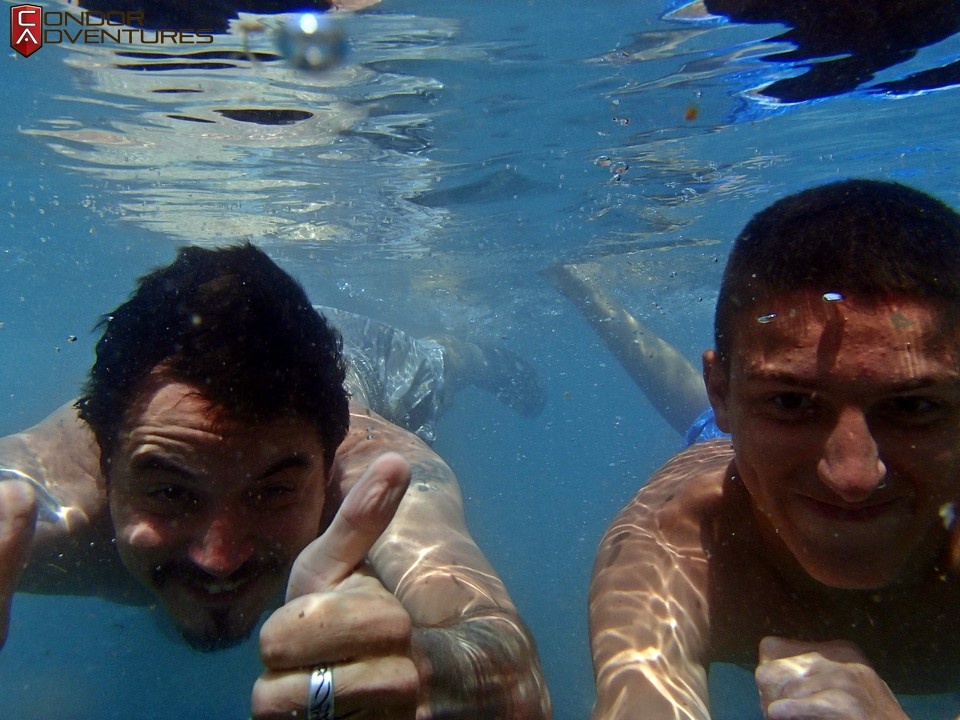 Later on, when I got fully charged with energy again, I started off to the upcoming section reaching Fier and Berat, my intention to reach Corovode. The camp there is about 15m away from a 150m deep canyon, where I found 4 Albanian guys, slightly surprised at my arrival. Not a single guest anywhere, the place looked abandoned, despite the wonderful surroundings.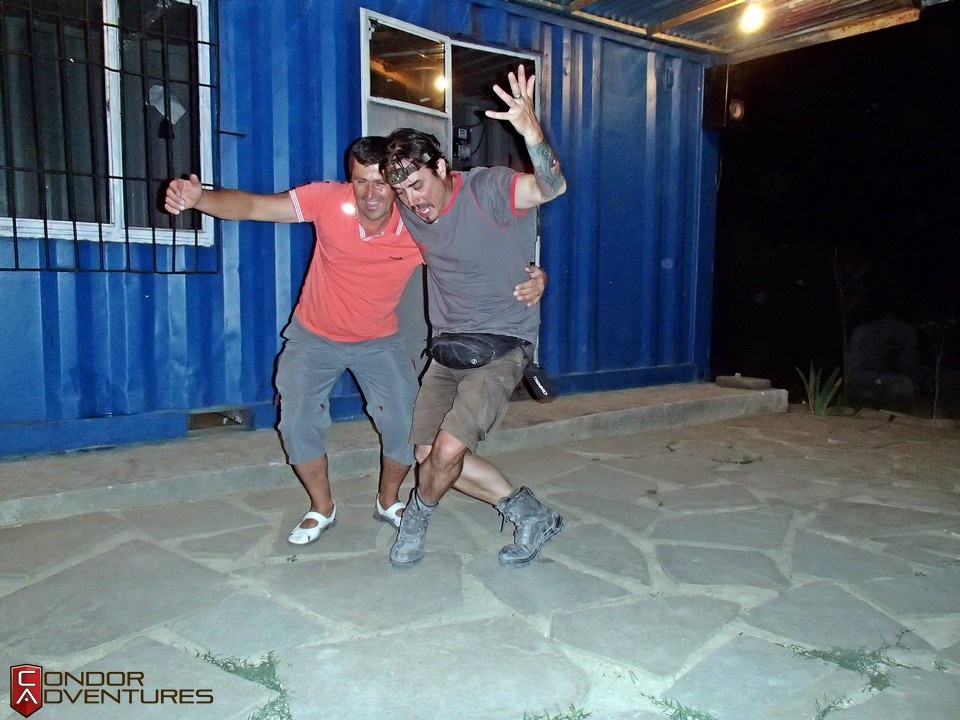 My upcoming daily objective was to reach Elbasan. I got some suggestions as to where I could get involved with some offroad practice again. I shortened my trip in a riverbed, which the locals were using to link the two villages. Initially I tried following the ruts, although I quickly learned it was nonsense, the previous travelers were choosing spontanious paths. The bottom of the bed is occasionally thick of pebbles, sometimes deeply dusty or finely sandy, or muddy at most, depending on how lucky one gets. Even though the deepest ford was max. 1 metre, still I had to cross quite often the strong backwashed river flowing this way and that. I fell quite often. During these gymnastics it was getting dark, I considered camping somewhere around. My resting periods were the ones when I stood up from a drop puzzled about where next. I really enjoyed it, quite sure I'd be back some time.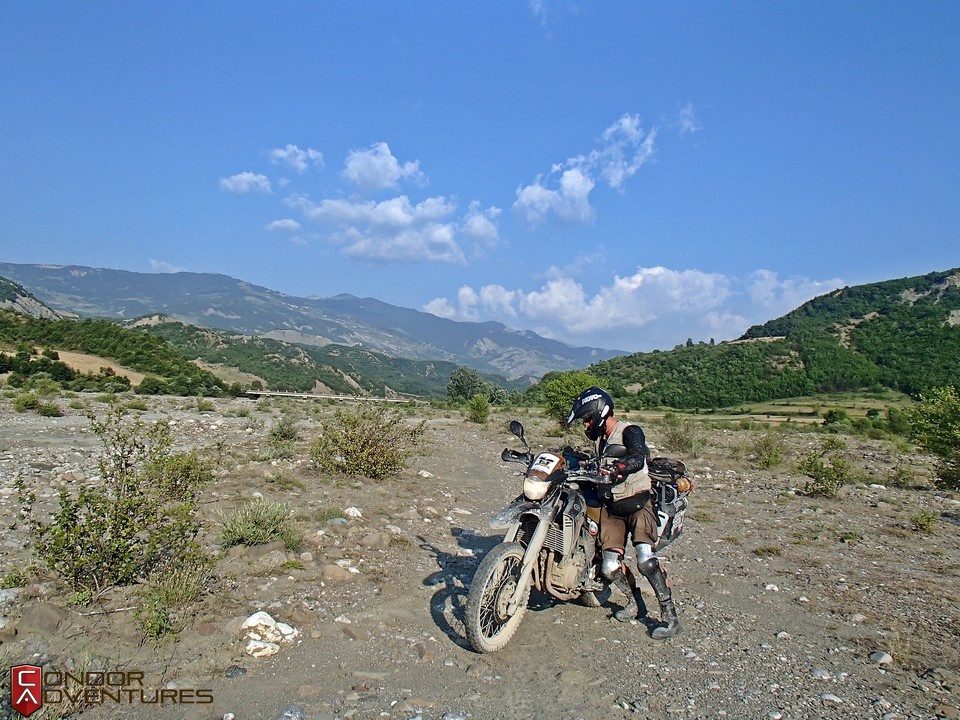 Reaching Elbasan during the night, finding a place to sleep was an adventure. I desperately needed to rest after such a tiring day.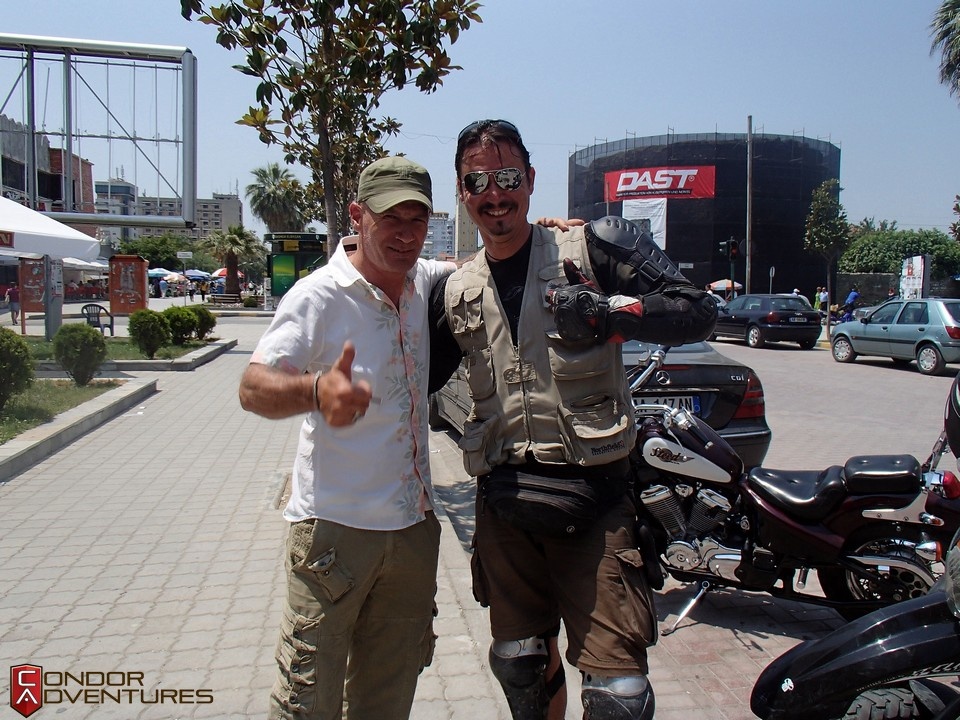 Finally I had to start to head home. During one of my drops, back in the riverbed I had my numberplate fall off again. I didn't have the intention to fix it on the spot and now I was extremely curious whether I could get back home to Hungary without it. My route was from Elbasan through Tirana, which is a must-see once, but certainly not on more occassions. I turned towards the coastline again at Skhodra, then to Montenegro, I endeavored to Kotor through Bar and Budva. I shun the bay around the mainland, but I couldn't find any campsites en route. I didn't understand the situation, there were no signs about where I could set my tent up. Finally, I turned into a beach where I could stay for the night for a small fee, directly next to the signpost prohibiting such activity. It was a good little spot, great view, only some insomniac elderly were bothering me early morning, who were the first bathers of the day.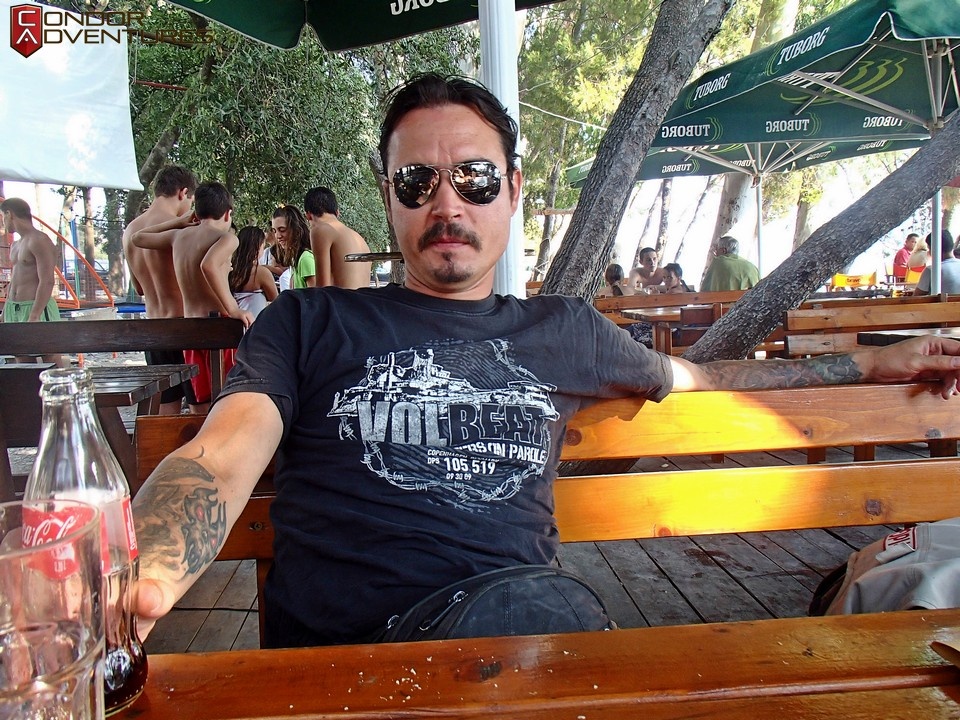 Continued towards Mostar, which somehow has been left out from my previous routes. Yet it is extremely beautiful, the upcoming Neretva valley is spectacular, it was a real pleasure to cruise around that area as some sort of descent.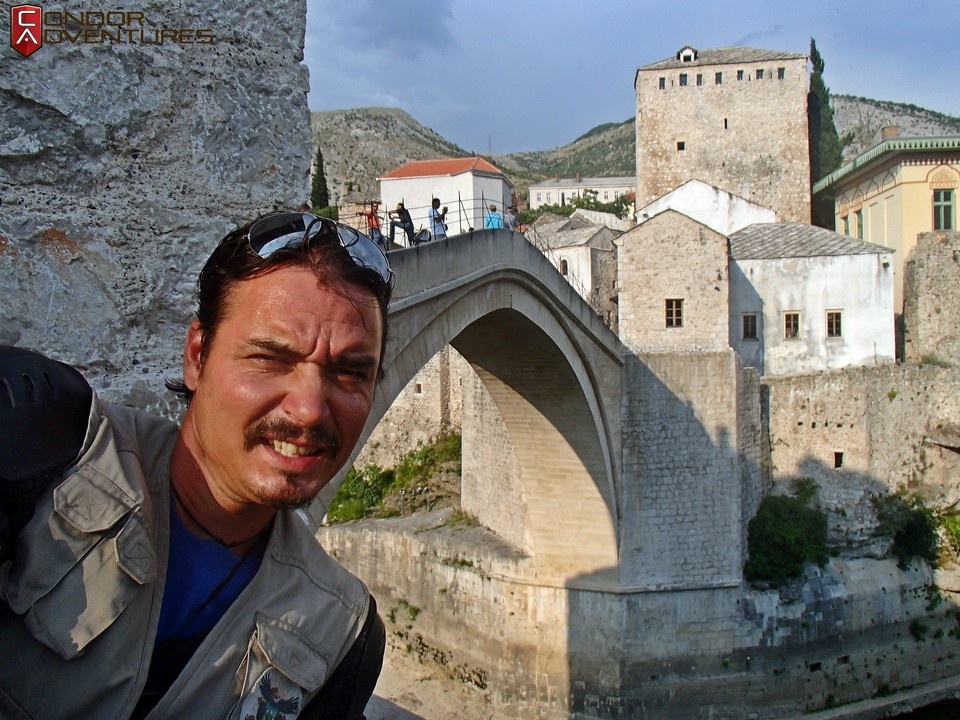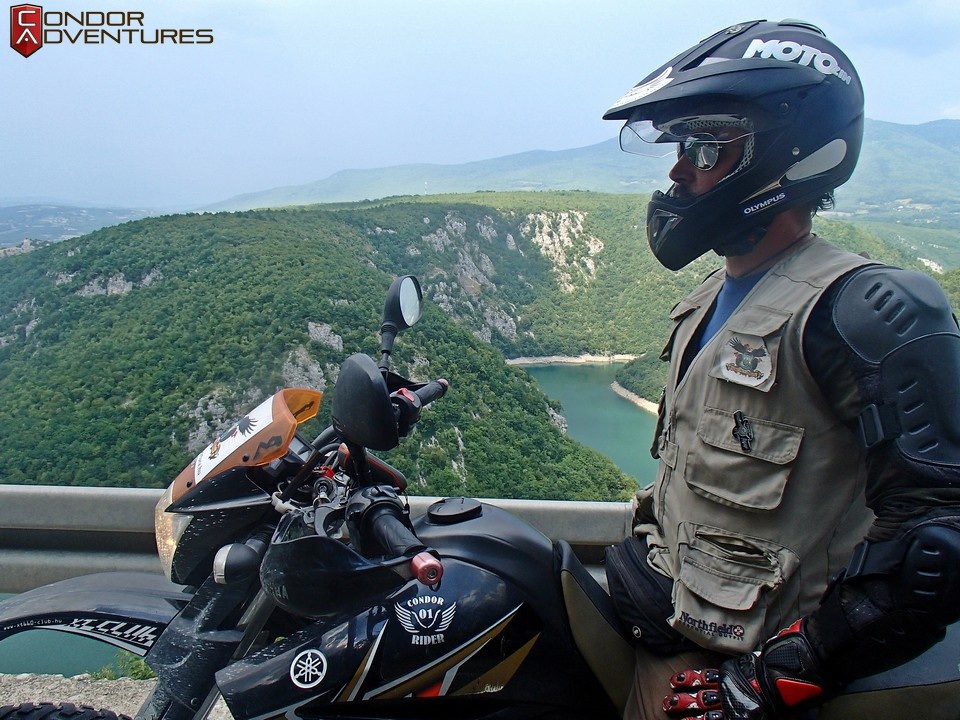 On the way back North, I visited the castle of Jajca, then about 20kms before the Croatian border I met a very hard-working and dedicated policeman, who turned after me with a handheld speedgun. I could have slowed down when I saw him face to face, although I rather chose to speed up a little bit, as I knew what he had to discover later: I had no numberplate on! :) Had a laught after this incident under my helmet, all the way to the border. Getting close to the Hungarian border, I almost believed the Bosnian police requested an Interpol warrant for me, as I met two more police-bikers, and I wasn't really keen on getting into explanations again.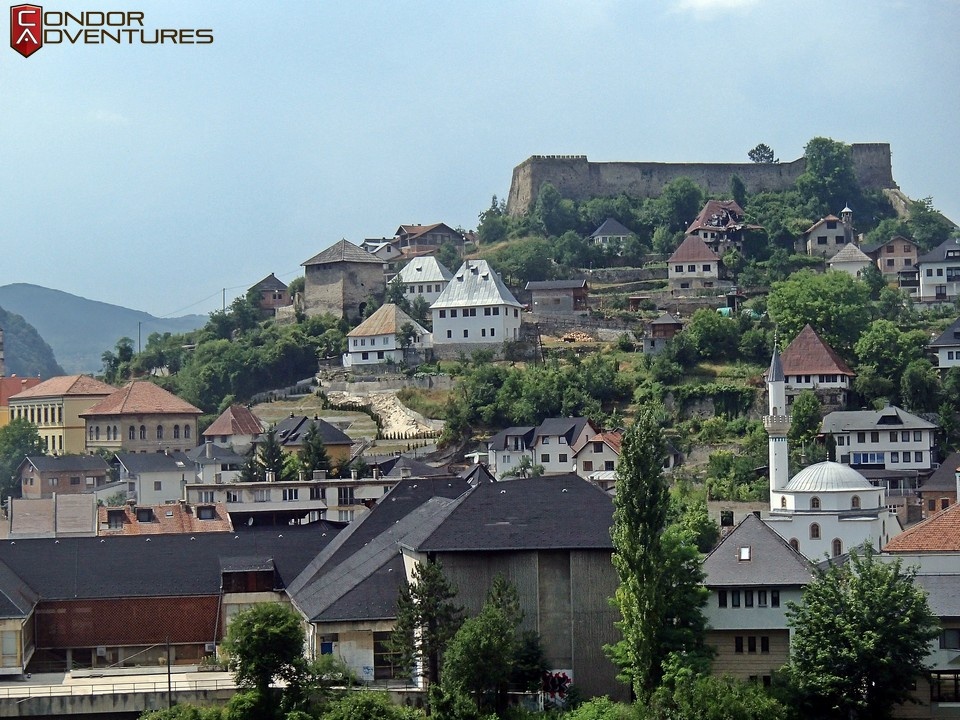 Based on the experiences gained, I could easily say Albania became one of my favorites, wonderful destination with many offroad routes, nice, helpful people, and, most importantly, it is really cheap. Surprisingly, I wasn't robbed, hasn't been eaten by savages who drink petrol and piss fire, nor was my skin used to make tam-tam drums. It is an ideal target for adventure riders!